7 Billion Humans
A downloadable game for Windows, macOS, and Linux
Automate swarms of office workers to solve puzzles inside your very own parallel computer made of people. A thrilling followup to the award winning Human Resource Machine. Now with more humans!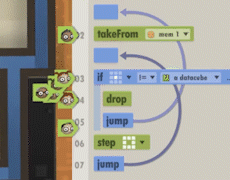 THRILLING FEATURES!
More puzzles, more humans, more rippling brain muscles - over 60+ levels of programming puzzles! 77.777778% more levels than Human Resource Machine.
A whole new programming language to enjoy! Where Human Resource Machine was based on Assembly and executed by a single worker, 7 Billion Humans has an all new language that lots of workers can all execute at the same time.
You'll be taught everything you need to know. Even useless skills can be put to work!
Feeling stressed out? There are now friendly hint and "skip" systems to facilitate your career's ascent.
Available in English, French, Italian, German, Spanish, Dutch, Korean, Japanese, Polish, Brazilian Portuguese, and Russian. With more languages on the way!
Incomprehensible cutscenes! You will be delighted and bewildered.
New soundtrack by Kyle Gabler included alongside the game.
From the creators of Human Resource Machine, Little Inferno, and World of Goo.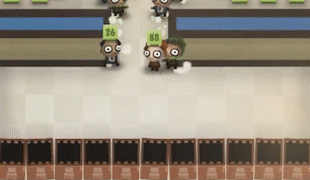 Purchase
In order to download this game you must purchase it at or above the minimum price of $14.99 USD. You will get access to the following files:
7_Billion_Humans_1.0.32472.msi
145 MB
7_Billion_Humans_1.0.32487.dmg
147 MB
7BillionHumans-Linux-2018-09-15.sh
146 MB
7_Billion_Humans_Original_Soundtrack.zip
181 MB
7BillionHumansOST_mp3.zip
80 MB
Comments
Log in with itch.io to leave a comment.
Is it better to start with Human Resource Machine, or does this game stand alone?
Both games take place in the same universe, but each have their own language and puzzles.
Hello,
I'm interested in to know more about this game, i have programming skill about more than 9 years but never did a game. If you don't mind I would ask you what is the tools/framework that you used in order to make this game? MonoGame? XNA?
Best regards,
Jonathan Fontes
i want that but thats worth 40 days of my daily living money but still its worth it, YOU must buy this!
You make 47 cents a day??
im sorry... thanks for telling me.... you will spent around 2.5 dollar for your survival here (thats if you eat the cheapest food everyday and only drink water) so thats worth 6 days :D
I have this game on my Nintendo Switch!
So it's Human Resource Machine but with multi-threading ?